SEO Basics - An introduction to Search Engine Optimization.
As promised in the title, SEO basics, I'll make this very simple (and sweet…). Search engine optimization is quite a complicated technique to understand. You may be one of the many who is asking what is SEO and how it works and when you do found out what is it, you start feeling you can't do it yourself and may think of seeking an expert is your only hope, but the cost..? Good luck! Guess what? This is something you can do yourself! But just like any other marketing activities, for it to work, it requires patience, commitment, and hard work.
SEO definition.
It stands for Search Engine Optimization. It is a practice, a technique, or a tactic done to make your website visible and easily searchable in Google's search engine. Think of your website as a store located somewhere on the internet, if your website is not optimized, people won't know your website exists. As I've said, it is a practice or a technique to be done, and for you to be able to do that, you have to know at least the basic. SEO basics have 3 main practices. These are, keyword research, on-page SEO and off-page SEO.
What is Keyword Research?
Keyword research is a practice where you search for the right keywords to use on your website/webpage. Keywords are the words you put in the Google search engine to find what you're looking for. Say you're looking for 'red shoes' and you type in 'red shoes' in search box and boom! You'll be bombarded with a list of websites/webpages with 'red shoes' in it. The goal of this practice or technique is to find the most search keyword/s but with the least competition rate possible and then use or stuff those keywords on your website or webpage. But wait, it's not something you just think and estimate or feel like your gut is telling you it's the right keyword/s to use. It has methods or ways, historical figures to consider and tools to use (some free, some paid, but of course, I'll go with free). It's easy, but it would still need your time and effort. Me, I have like my own way of doing keyword research but I better discuss it in a separate blog.
Then there goes On-page SEO.
What is it? An SEO basic practice wherein you make your website content SEO friendly. It's formatting your website content to make it searchable or recognizable by search engines. If keyword research has a method or ways to be done, On-page SEO has factors to consider to make your content the friendliest possible to search engines. You may want to install Yoast plugin, it's a must-have if you don't do coding. Okay, so here goes...
First the title.
* It should be 60 characters long * It should contain your keyword/s * Keywords should be put at the beginning of the title (if possible) * Ensure it is wrapped in H1.
Second, your meta description.
* It should be 160 characters long * It should contain your keyword/s * If you can put CTA, good!
Third, the body of your blog.
* The first paragraph should contain your keyword/s and wrap in H2. * Mention your keywords at least 5 times, but avoid overstuffing. It actually depends on how long your blog/content is. * Should be at least 700 words long. * Interlink. Have at least 2 to 3 inbound and outbound links. * The last paragraph should contain keyword/s.
Fourth, image.
* File size should be as small as possible, but, without sacrificing the quality of your image. * Make sure to put title/name. Example: 12345_shoes.jpg - No! .. red-stiletto-shoes - Yes! * Put alt-tag. Use your keyword/s as your alt-tag. * If you can also put a description, good!
Fifth, permalink.
* As short as possible, should contain keyword/s and no special characters.     Example: https://virtuallybymari.com/php-admin?/seo-basics/ - No                                                   https://virtuallybymari.com/seo-basics/ - Yes
Sixth...
* Put social share buttons * Ensure it's mobile friendly.
And then lastly, off-page SEO
Or in technical terms, it's what we call link building. From the word itself link + building. It's putting/leaving your links to outside websites and let it run its course (Do not ever SPAM!). It's like shouting to the world, 'hey, I have a website! Come, see!" (click this link). -- like that. And how are you going to do that? Here are some SEO basic practices you might want doing. * Create social media accounts and promote your contents there (Facebook, Twitter, Instagram,
Pinterest
, Linkedin among others) * Guest posting or article submission sites. * Join forum discussions * Blog commenting. * Create an account to bookmarking sites (Tumblr, Getpocket, Diigo, Diggs, Medium, Stumbleupon). * List your business to business listing sites. Whew! Too much work? good! Because that would mean you're going to need me. char! Just joking. It's easy, you can do it. But again, if your time won't allow, I'm raising my hand. Yes I know, these are kind of hard work. Remember these are just SEO basics, wait till you here more. But no, I'm not going to discuss it here. I, myself have a lot to digest and learn about SEO too. Maybe leave those to the experts? heehee.. But seriously, SEO requires commitment, patience, and hard work. It's not something you do one day and then, voila! you're in
SERP.
There are a lot of factors to consider, practices to be done and some technicalities to adjust. You may need to consult an expert and have it done for you if you really want to rank first, just be ready with your budget. But hey, don't get me wrong here.  I'm not discouraging you to seek an expert. It pays to invest especially if this move will give you more money in return. What I'm emphasizing here is that even if you're a startup and you don't have the budget (yet) to allocate to this side of your business, knowing just the SEO basics can still do wonders to your website. It's up to you whether you choose to do the above yourself or have an expert do it all for you. Just do what you think would be best for your business as long as you keep your website optimized and indexable by main search engines i.e. google, bing or yahoo. I hope that this SEO basic guide has somehow helped you understand what really is it and how it works. Ciao!
---
BRAGGING RIGHTS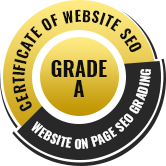 Forget humility! Hey, I worked hard on this. This badge shows that this webpage / post got A in SEO grading by smallseotools.com. Want your webpage to have this grade too? Hit the button below and let's talk about it!
---